MJS CHRISTMAS SCIENCE LECTURE
Monday 7 December, 7.00pm
Online event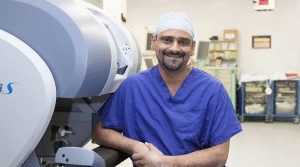 The Moncrieff Jones Science Society's jewel in the crown is the Christmas Science lecture, and this year is no different. We are delighted to welcome our speaker for 2020 – Mr Shahnawaz Rasheed, Consultant Surgeon at The Royal Marsden and a world leading pioneer in the use of robotic surgery. 
Mr Rasheed is one of the only surgeons in the UK who is using the Da Vinci Xi surgical robot to perform surgery.   In what promises to be an another extraordinary Moncrieff Jones Christmas Lecture, Mr Rasheed will speak about both his pioneering work in colorectal cancer surgery as well as another passion of his – disaster response medicine. He has an interest in global health and oversees development projects in low and middle income countries as well as leading a global disaster response team and running courses on disaster response medicine.  Mr Rasheed is the global Medical Director of the NGO Humanity First and is also a Permanent Council member for the G4 Alliance which advocates for surgery, anaesthesia, obstetrics and trauma in low and middle income countries. In addition, he is the lead for the Forum on International Crisis Management at the Institute for Global Health Innovation, Imperial College London and has an interest in improving delivery of care following international disasters.
To reserve your place, complete the form below.
Moncrieff Jones Christmas Lecture
Back to all Events