Chamber Choir Performs at St. Christopher's Festival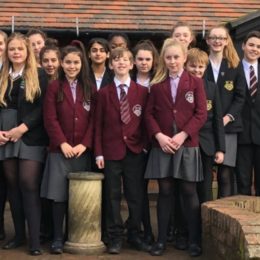 ETS once again performed superbly at St. Christopher's festival and were admired by all of the other children from schools in Surrey and South London. The special guest conductor, Bob Chilcott was most impressed by their performances and commented on how inspirational they will have been to the younger children. Bob Chilcott's music is well known by ETS singers, in particular his beautiful Peace Mass that they performed last month in Belgium. It was a great opportunity for them to work with such a respected choral composer. Solo pieces from ETS included Elgar's Ave Verum Corpus which was sung to perfection. ETS then provided harmonies and descents in the massed choral items which included Bob Chilcott's anthem, Can You Hear Me?'. This moving piece is unique as it employs sign language.
Congratulations to ETS on another stunning performance.
Mr Adam Assen, Director of Music
Back to all news