Digital 3D Design Club
The first pupil-created design is printing as we speak; customised and produced by Digital 3D Design club. But can you work out what it's for?
The design itself is very clever, allowing someone to hold a big book open easily with one hand. There's also a handy bookmark clip on the back.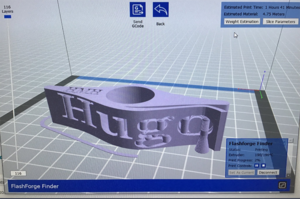 Did you know, the PLA filament used in our 3D printer is made from corn starch and is 100% biodegradable in a hot compost heap? We are currently collecting any PLA waste we make and aim to compost it right here at school.
Back to all news