Introducing our new Piano Teacher – Miss Jessica Mancoo!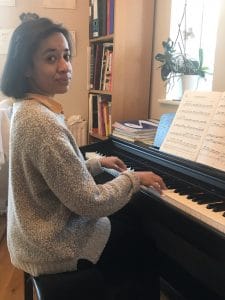 Miss Mancoo doesn't just play the piano, she also plays trombone and tenor horn! She will be starting teaching here at Caterham Prep and is offering lessons virtually whilst we are learning from home.
Please contact Mrs Taylor if you would like to start piano lessons virtually or even make contact if you would like to wait until we return to school. That way, we can be all set up and ready to go straight away! Children in Year 3 will have a 20 minute lesson and children in Years 4 to 6 will have a 40 minute lesson.
Interview with Miss Mancoo – answering all of the important questions!
What instruments do you play?
​I play the piano, tenor horn and trombone 
What is your favourite piece to play on the piano?
Maple Leaf Rag by Scott Joplin
Where did you attend university?
​Cardiff University 
Are you a coffee or tea drinker?
​I love coffee! 
What is your flavour of ice cream?
​I love Ben and Jerry's Chocolate Fudge Sundae
Before the pandemic started, where is the last country you travelled to?
I lived in Japan for five years, and when flying back to the UK in July 2019, I stopped over in South Korea for a day.
Please contact Mrs Taylor if you would like you sign up for piano lessons with Miss Mancoo [email protected]
Back to all news