Prep Library Busier Than Ever
We have had an overwhelming response to the library becoming temporarily virtual. More books than ever have been taken out of the library by children of all ages and it is wonderful to see the children engaging with the Reading Cloud website, reserving books and reading them. The children have been searching for books connected to their topics at school as well as on the reading lists that Miss Stone has given out.
At times there may be delays in the children receiving their books due to the following reasons:
The children may still have outstanding library books to return.
The books they reserve may be in the Pre-Prep Library.
The books may have been misplaced or have not been returned by other children.
In the picture below is a selection of books that we have available in the library to borrow all around the theme of Black History Month. If your child has not had a chance to look at the website and renew a book, please feel free to try this soon. Please also keep an eye out for any library books that may still be lurking at a home and return them to school as soon as possible. Don't forget to remind your children to write a review about the books they have read.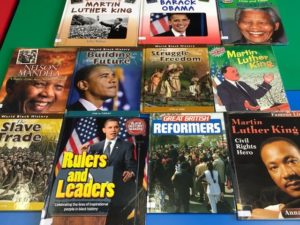 Back to all news