RGS Young Geographer of the Year
We are absolutely delighted to announce that Anja in Year 4 has been awarded as a highly commended entry in this year's RGS Young Geographer of the Year competition for the Key Stage 2 age group. As this is a national competition we are extremely proud of Anja and her achievements in this highly competitive competition.
The competition this year gave young people the chance to explore the potential that geography holds by exploring their wider geographical horizons – The World Beyond My Window. Anja did this by exploring the world beyond her window both locally and internationally before Covid 19 confined us to our homes and then what her world looked like, geographically, during the virus. She was clearly able to demonstrate how her life was/is connected to the places mentioned physically, digitally and emotionally.
This is a wonderful achievement for Anja and our school in a competition in which we have had success before.
Very well done Anja!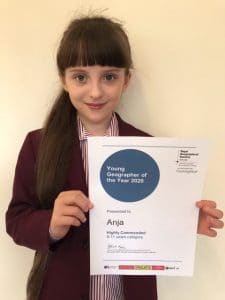 Back to all news