Surrey Star Burst
On Tuesday 24 May, the U11 girls played in the Surrey Star Burst 8 a side group round at Croydon High.  The girls elected to field against Royal Russell and started really well with dot balls galore and an early wicket caught behind by Ishani P off Ella D's bowl. 
Further wickets fell, but a strong pair of boundary hitters in the latter overs set Royal Russell up to defend a commendable score.  Caterham started steadily but were a little rattled by Royal Russell's quick fielding and we were punished with a handful of run outs.  Onto the next match against Banstead, the girls regrouped and a decisive move by captain Ishani P to go into bat worked well with the first pair totalling 26 off the first two overs. Better communication running between the wickets and a handful of boundaries gave the girls a positive boost. Some great overs bowled by Ella, Cora, Beth, Romilly and a maiden by Amelia held Banstead to a score of 31, with Caterham taking 3 bonus points for the highest scoring batting pairs. 
The final match up against Croydon High started well with a handful of boundaries by Ella and Ishani, followed by the pairs of Mary/Cora and Shri/ Amelia taking bonus points against their opposite pairs for most runs.  An opening strong partnership from Croydon of six boundaries meant Caterham had a game on. From 33 scored in the first two overs to only two runs and a wicket in the next two, thanks to some great bowling by Shri and Amelia. Ishani and Ella followed, again holding Croydon to only 8 runs.  The game was close with only two overs remaining and despite some great bowling and fielding, Croydon hit a four and two sixes in the last four balls to take the win. Although not the result the girls were hoping for, they should be really proud of themselves and the improvement they showed over the course of the afternoon. Well done everyone!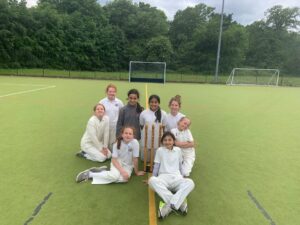 Back to all news